You know whats common in Male Nipples, Ear Lobes, Tonsils ,Appendix and Wisdom Teeth?
You don't need them and you still carry them any way. Does their presence hurt ? or does their absence ?
Over the course of a few thousand years the human body has made a lot of changes to itself and some of organs much like our tail bone our ear lobes are now redundant parts of the body that once upon a time in the evolutionary process had a very important role to play. Since we don't use it, the body decided to lose it. May be not completely.
To explain more clearly there's a phenomenon I was blown away by. It's called the Vaginal Atrophy. The Vaginal walls of Post Menopausal Women become thinner due to falling estrogen levels. The body realizes that the breasts and the vagina have no more roles to play and functional biological need to maintain is now gone. Hence slowly the entire system is shutdown. How intelligent is that!
We've seen this in the Gym as well. A long break and the Muscles Disappear
What you don't use, you lose. It simply degenerates.
That's Atrophy
.
I sat down to think about the other aspects in life that could be atrophied to something that is no longer useful.
At a hardware (Physical) level we are better wired to adapt to difficulties and injuries than at a software (mental) level. Our hardwares know which parts become obsolete and the body learns to function without them. However at the software level we are yet to learn which emotions and memories are to be let go and let be atrophied and which ones are worth being worked towards and held on to.
There's a whole deal written on the web about Muscle Atrophy. I.e. losing the muscles u don't use. While that did get me thinking to get back to the gym or some sport to start using them , I also thought about other aspects of life where I seem to be losing it. I.e. The thin line that connects the Software to the Hardware.
1. Memory :
I no longer put in an effort to remember songs ,movie dialogues , jokes nor cellphone numbers, in some cases I forget names of people I meet at events. The parts of the brain that once were regularly used to memorize answers and numbers of those girlfriends you had to call from the landline have now been in Hibernation. Our body now has an external Brain .I.e. A Mobile Phone . I swear to reduce my dependency on it. While using it to my benefit.
2. Creativity :
I last wrote a song 6 years ago. and now when I think of it I cant imagine I could even write song. I wonder where did the thought come from and how do I come up with a thought that would translate into a poem or a song. I haven't been using the creativity muscle much .and like they say just like it takes a while for the muscles to show up . You cant expect to write poem and songs just in a flash. It does take a while for the brain to get used to that kinda thought process. I'm gonna start taking my rhymes and raps more seriously.I should write one song this year. Ditto for Sketching and Painting.
Thanks to my wife, all the kids and ladies I meet. I do remember my Origami, else that would have been another forgotten creative aspect of me.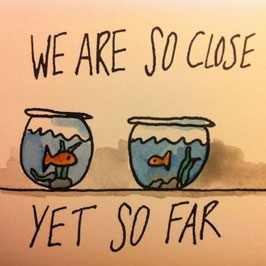 3. Relationships : Never thought relationships could be Atrophied as well.
It could be Clients ,Family or Friends. While you think you are connected. You aren't. Facebook creates an illusion of you being connected to the people. In fact the regular available updates just distances the need to speak to that person. At times I'm lucky I don't have my Grandma on Facebook. That helps me give her that occasional Phone call.
I'm gonna meet old Pals. Discuss ideas. Exchange opinions over the real world. Without regular connect the relationship becomes equivalent to a stranger with a smile. Been there smiled that.
The universe is Binary .Things either grow stronger or weaker. Either Grow or you Shrink , You climb or you Slide, You Swim or You Sink. Not doing something is doing something towards the degenerative process of your Ideas, The Universe has no Plateaus . Those who are up there are there because they are constantly working towards something.
I'm talking two Important concepts here. Letting Go and Re-Building what seemed to be lost.
Your life has got a way to go around things it loses. It could be an important person in your life or may be a job position and much like an extracted tooth, it lets the Gums remain .. without any effect to you. Does take a while to heal though.
Sometimes we hold on to things even after we lose it. Thinking life wouldn't be able to move ahead without it. Life Finds a way to make organs ,things and relationships atrophied. Choose which ones u need and let the others go.I'm gonna choose who I spend my time with more constructively .
We are all gonna lose everything we have , what we have to decide is whats worth holding on longer to and whats not.
Choose wisely .Happy new year.