On a Sunday evening ,me and a couple of other friends had met at Ratish's place a.We were working on some script to be made into a movie.Within in no time all the actors turned up and we had to get multiple copies of the script for all the actors to rehearse a scene.After half n hour of deciding who will go to stationary shop and get the printouts I was chosen .
I left his house and it started raining and I was told that the Photocopy (xerox) shop was just a few blocks away.I had no vehicle and decided to walk.To my dissapointment it was a sunday and the store was closed..so did that mean I should go back ??
NO I had to get the work done...I thought.
I called up ratish again and asked him where else can I get it...and he mentioned a place that was about 15 minutes walk and I yelled back at him...called him nuts to ask me to walk that far for some printouts.and the rains were driving me crazy.I missed my bike which is now home and not keeping well .
Suddenly something struck me and I remembered a time...when we needed alcohol at nite and we walked the 'same distance' to get some beer from a bar that was close to the photocopy shop.Did I complain back then?? No prizes for guessing ...Hell no.
Why did the same distance generate different emotions in me??
Obviously my mind and the way it functions had a lot to do with the distance.
My sister takes one LONG hour to reach Churchgate to her college and at the same time..she takes JUST one hour to reach fashion street. (Same place )
After having traveled by road upto Leh - Ladakh and back (6000 Kms +) every road trip seems reachable in just a matter of days.But for most people Me traveling to my college from Goregaon to Airoli (32 kms) is madness.
There are no real distances...only Perceived ones.
"Perceived distances and efforts are indirectly proportional to Interest" -Ram Santosh
More the interest lesser the distance seems.So stop cursing the distances...it you who make it seem longer or harder to get.
How far you will go depends upon how(badly) much you want IT / HER/ HIM /THEM .
When you love what you do you loose track of time, the efforts put and distances traveled seem minuscule but when the interest fades that same effort ,that same time and that same distance seems like a lot.
A small paradigm shift can help you cut distances and keep interests alive.Its all about how far you want to make things seem.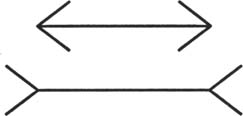 Look closely ..both are same length...I still
felt the lower one longer!
Have nice day and keep coming back to Ram's Realizations :)
I
mage sources : Google