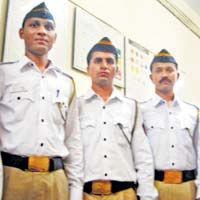 Latesht AAni Phitest -Latest and fittest -image by NDTV
The tittle actually is the accent of a typical mumbai traffic police.
Its been 5 years since Ive been dealing with them...I keep paying them my tax time and again for being on the roads .At times for my mistakes at times for avoiding wastage of time.I'm sure they are so able that they can find fault even in a new car with every certificate required .
These traffic hawaldars love talking so much..(during negotiation).they can talk to you for an hour and take just fifty rupees for the conversation you had with them ..cheap eh?? try to talk dirty and they even spank you for free!
At times i think if corruption didn't exist i would have ended up paying heavily for my mistakes...but at the same time .But at times i have payed even when i made no mistake...We all wish there was no corruption this no corruption that...but the reality is when we do a mistake we love to be given a concession and get freed for cheap...like all humans (specially girls) we love cheap deals don't we..
On one side we have WE HATE MUMBAI TRAFFIC COPS PAGE on facebook with 1200 plus likes and simultaneously you have yourself abusing these traffic cops in front of your friends saying 'Mama banaya usko' (fooled 'em) and you tel your parents ...
"I wasn't wrong at all papa but this corrupt hawaldar na is ...so bad he took 500 rupees just for one can of beer I had"
and papa like all other oldies says
"corruption is spoiling the country ,these hawaladars must be taught a lesson" .Next day papa pays the hawaldar a cool 100 bucks for jumping the signal ,says "jau dya na saheb late hoth ahe

"

(please leme go sir,I'm getting late) and after he goes a few meters ahead he thinks he got a cheap deal...
The bottom line is 'We are jealous of them making quick money'.
No one likes a person who makes good money in a quick span ...the instinctive response says "kuch toh jhol hoga" .(Something must be wrong)
Amcha changla Pandu -
Ive had the privilege to drop police men on multiple occasions from SRPF goregaon to navi mumbai..and listening to their insecurities is again a sad story...Low pays , Sudden transfers, no time to spend with kids, extended work hours...bribes to be paid to get that post. how do they stop not accepting money."Vhery vhary diphicult" says constable Shinde..something has to be done to eliminate corruption in the system..but by people not agreeing to pay bribes???? naah this is never gonna work... coz humans love to peep and anything that's cheap..
Curing an infected mango tree cant be done by spraying flit on the plucked mango
Now how do we do it?? I'll come to that in some other blog post! :)
Mala zao dya na ghari aata wajale ki bara -Popular marathi song..
I've stopped blaming these pandu's ( mama's or whatever).Though they scare me even if I have every certificate and my license .I'm so good at spotting them that I spot them even when I'm in a public transport..."woh lo wahan chupa hai"...(there he is!!!)
These guys can give u some very humorous incidents..I thank one of them for the joke below which inspired this blog post
license ahe? ( do u have the license? )
ho (yes)
Pee u shee?

(PUC certificate?)
ho aahe (yes i have it)
" Tumcha right cha mirror nahi ahe...dand bharava lagel "
( you dont have a right mirror ..will have to pay fine)
' pan saheb me lefty ahe '(but im a lefty')
'chal bara za... aj chi bhovni zhali nhauti manun tula thambhavla'( fine then go...i caught you coz i hadn't earned anything today as of now ).
Well the joke is over...if you understood Marathi you can write LOLZ in the comment box below....LOL ( do we actually LOL?? check this space again you might know) till then have fun with the Pandus
( I dont remember where I got the images from but please spare me if I forgot to add your names)